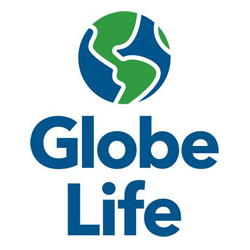 Globe Life Insurance
Work From Home Data Verification Customer Service Representative - PT / FT
Sorry, this job has expired.
Omaha, NE
Paid holidays, Paid vacation, 401K / Retirement plan, Vision Insurance, Dental Insurance, Life Insurance, Health Insurance
We are following the social distancing guidelines for COVID-19! All interviews and training have transitioned to a virtual platform.
Globe Life is now hiring Full-Time and Part-Time Data Verification Customer Service Representatives (CSRs) to join our team! We are open to discussing flexible scheduling, and we are offering CSR's the opportunity to Work From Home!
Compensation for this position is hourly during training ($12/hr) and then goes to a pay for performance system where your motivation and efforts determine your pay. There is great earning potential!
First year in production, on target average earnings is $14 - $16/hr.
As an employee at Globe Life, on a day-to-day basis you will enjoy a company culture that embraces individuality, celebrates our successes, offers an attractive employee benefits package, fosters personal development, and seeks to promote internal talent.
In the Data Verification CSR role, you will be a part of our Quality Assurance Department, and will be responsible for verifying life and health insurance applications directly with potential customers. You will be a vital part of our company's New Business and Underwriting process. You must be comfortable making outbound calls, working with channel partners, generating interest, qualifying prospects in order to meet department goals/Key Performance Indicators/metrics.
As a Data Verification CSR, you will interact with potential, current, and future customers and thoroughly document the interaction using appropriate resources while maintaining proper adherence to the procedures and policies of this department. The information you verify and gather directly relates to determining whether the company will decline or issue a policy.
Education requirements
• A high school diploma or equivalent
Experience requirements
• At least 1 year of experience in a customer service role
Qualifications
• Must have Microsoft Office user knowledge and typing skills.
• Ability to type a minimum of 30 WPM
• Medical Terminology familiarity preferred
• Proficient use of the computer with an emphasis in basic Microsoft Excel.
• Must be able to work Saturday mornings
Responsibilities
On a day to day basis you will:
• Be comfortable with conducting outbound calls and take appropriate action with each call.
• Have the ability to handle inbound and outbound telephone calls with potential customers.
• Accurately document the information.
• Capable of quickly gathering information from the customer and accurately recording it.
Skills
You must be able to:
• Ask probing questions, understand concerns, and overcome objections.
• Have an aptitude for Medical Terminology and Insurance Terminology.
• Learn new computer systems.
• Understand customer service principles and practices.
• Possess a professional and friendly attitude and be able to quickly develop a rapport with customers.
• Be self-motivated, with high energy and an engaging level of enthusiasm.
• Demonstrate excellent computer navigation skills.
• Be self-driven, dependable, able to pay close attention to detail, and extremely organized.
• Deal calmly and professionally with customer issues.
• Demonstrate negotiation skills to help navigate through escalated calls.
• Be a positive team player with a good sense of humor.
• Demonstrate strong listening and communication skills.
Work hours
• You'll accrue personal and vacation time whether working full- or part-time and be paid for training. As a full-time employee you are also eligible to enroll in health, dental, vision, life, 401(k) and pension plan.
About Us
At Globe Life, we really do value our employees and it shows! We make sure you have your own dedicated personal work space and we don't make overtime mandatory-that is truly optional scheduling. Employees at Globe Life are dedicated to their work and we are dedicated to our employees and want to give you peace of mind for your future retirement.
We are an Equal Opportunity Employer.
By submitting this form you agree to receive email and text message communications from Globe Life and its recruiting agents regarding recruitment events and the advancement of your application for employment with Globe Life.
upnytkqekppv
132127717